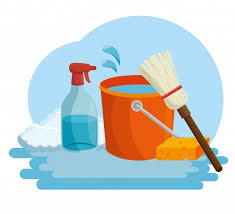 All our furniture might need a quick clean-up here and there throughout the season .
Make a mixture of mild soap and warm water in a bucket.
Use a clean cloth to wipe the soapy mixture onto the surfaces of your furniture, cleaning off any dirt.
Use a sponge or soft brush to clean the surfaces when the dirt is a bit more attached.
Rinse thoroughly in order to avoid any soap residue to remain on the material.
Important: Do not use a high pressure cleaner. The strong water jet influences the closed structure of the material, making it easier for dirt to adhere to the material.
If chairs are in a location with high concentrations of salt water, e.g. ocean or seaside, we strongly recommend cleaning the seats with water regularly to prevent salt water from sticking to the material, which may potentially cause some light rust on the screws.